SSL.com should not be confused with SSLs.com.
SSL.com was founded in year 2002 to provide SSL/TLS certificates. The company is called SSL Corp and is based in Houston, Texas. Overtime SSL.com has grown to be a Certification Authority to sign and issue digital signatures.
SSL.com provides SSL certificates to end users and enterprise clients.
Here is a screenshot of their offering, compared with AskSSL.com offering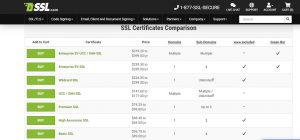 compare with AskSSL main offering here: