In this article, you will learn how to get a website security certificate.
But first, what is a security certificate?
Security certificates (SSL/TLS) play a major role in securing the website and web applications. The client application and the server exchange the certificate to retrieve cryptographic credentials and verification of the peer device. 
AskSSL.com is a leading certificate provider that sells at an affordable price. You can acquire the certificate from their website platform by following easy steps.
How to get a website security certificate
In this article, I illustrate an easy to follow guide on how to get a website security certificate. 
Step 1: Log in to your askSSL.com account.  
Provide your email and password to be verified.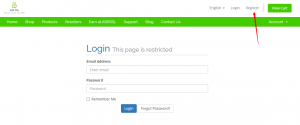 You can also create an account by clicking the register button at the top left of the page.
Step 2: Select the type of SSL package for your site.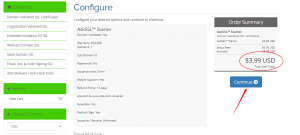 ASkSSL.com contains one free and 3 premium packages.  Click on the "order now" button at the bottom of your favorite plan. A new window containing 3 sections containing categories column, configure column, and order summary [on the desktop view]. 
The screenshot below is displayed when you select ASKSSL multi-domain SSL.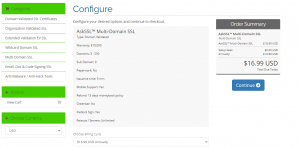 The cost of the SSL certificate may change depending on the type of SSL certificate. You can select your desired type from the categories section. The default is a domain validated certificate.
Also, the "choose currency"  option on the bottom left. The default is USD. 
SSL certificates expire after a year. ASKSSL provide two billing cycle of annually or biennially. You can opt for a suitable billing cycle. 
Step 3: Review your order
Here, you verify cart items if they reflect the desired selections. You can confirm the details before finalizing the order. You can remove some items before submitting the order.
To review the order, proceed to click on the "Continue" button.  
Step 4: complete the payment
Once you check out the order, you will be prompted to make payment.
ASKSSL supports both card and Paypal payments and you'll be redirected to your favorite payment method [ chosen during account setup].  
Once you complete the payment, you will be guided on installation. You can check the status of your order from the dashboard. 
What to do next
The above steps guide in how to get a website security certificate from AskSSL.com.
They provide easy to use interface that you can navigate to purchase your package. ASSKSSL has a team working around the clock to help you in case you stuck on the process. 
Website security is crucial as an effort to subvert malicious attacks. It's the site owner's responsibility to ensure standard security principles are employed.