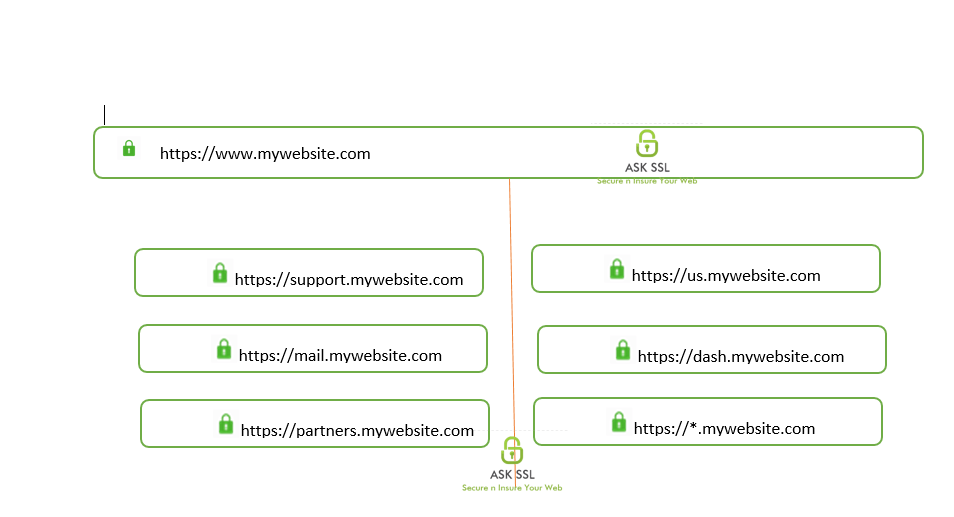 Wildcard SSL Certificate refers to a special type of SSL certificate used to secure a domain name and unlimited sub domains of the same domain name. Therefore you require just one domain on the main domain that will secure any number of sub domains on that particular domain name, e.g. mail.domain.com, payments.domain.com, xya.domain.com  e.t.c.
Popular Wildcard SSL certificates  include:
Comodo PositiveSSL Wildcard
Product Summary
Validation Type: DV
Issuance: Minutes
Reissue: Unlimited
Warranty: $50,000
Site Seal:Static
Server Licensing: Unlimited
What to expect from Comodo Positive SSL Wildcard.
Secure multiple subdomains with one certificate
Domain validated certificate
2048 bit Industry Standard SSL Certificate
Trusted by all popular browsers
99.3% browser compatibility
128/256 bit encryption
Unlimited Re-issuance Policy
Order Here
| SSL | Warranty | Issuance Time | Price (Now) | Order |
| --- | --- | --- | --- | --- |
| Comodo Code Signing | - | 2 days | $82.60 | [maxbutton id="17"] |
| Certum Basic ID | $100 | Minutes | $6.93 | [maxbutton id="16"] |
| PositiveSSL EV | $1,000,000 | 5 days | $99.00 | [maxbutton id="15"] |
| Comodo PositiveSSL Wildcard | $50,000 | Minutes | $99.40 | [maxbutton id="14"] |
| AskSSL™ Wildcard SSL | $10,000 | Minutes | $49.99 | [maxbutton id="13"] |
| Comodo SSL | $250,0000 | Minutes | $54.60 | [maxbutton id="12"] |
| GeoTrust QuickSSL Premium | $500,000 | Minutes | $67.20 | [maxbutton id="11"] |
| Thawte SSL 123 | $500,000 | 1 day | $33.60 | [maxbutton id="8"] |
| Comodo Positive Multi-Domain SSL | $50,000 | Minutes | $21 | [maxbutton id="7"] |
| AskSSL Multi-Domain SSL | $10,000 | Minutes | $16.99 | [maxbutton id="6"] |
| Comodo EssentialSSL | $10,000 | Minutes | $16.73 | [maxbutton id="5"] |
| RapidSSL | $10,000 | Minutes | $12.60 | [maxbutton id="4"] |
| Comodo PositiveSSL | $10,000 | Minutes | $5.49 | [maxbutton id="3"] |
| AskSSL StarterSSL | $10,000 | Minutes | $3.99 | [maxbutton id="2"] |
| AskSSL™ BusinessTrust EV | $1,000,000 | 1-5 days | $69 | [maxbutton id="18"] |
| AskSSL™ BusinessTrust EV SAN | $1,000,000 | 1-5 days | $150 | [maxbutton id="19"] |